A nice blend of yesterday and today
We have chosen a light interior decoration mixing authentic furniture with contemporary tones, enabling the travellers to immerse themselves into the history of the house, and to benefit from a true experience. Our family furniture has been naturally integrated to the decor, starting a second life and giving an echo to the past of this place. The existing black woodworks (doors, stairs, skirting boards) contrasting with the white walls, bring a vintage state of mind. The high ceilings and the wide rooms offer a great comfort.
The house is surrounded by gardens richly tree filled: walnut, chestnut tree, beech trees, tulip tree, banana tree, palm tree, albizia, maple tree…)
The infinity swimming-pool is perfectly matching with the outstanding natural environment, one part of the property being registered as National Natural Heritage. All around the pool, the different terraces offer an intimate corner to everyone, resting at leisure in the full sunlight or in the shade of a tree, taking advantage of the gorgeous views.
At the back of the garden, an open-air cottage gives the opportunity of a quiet area ideal for an individual yoga session, or for meditation in front of the wood (yoga mats are available upon request).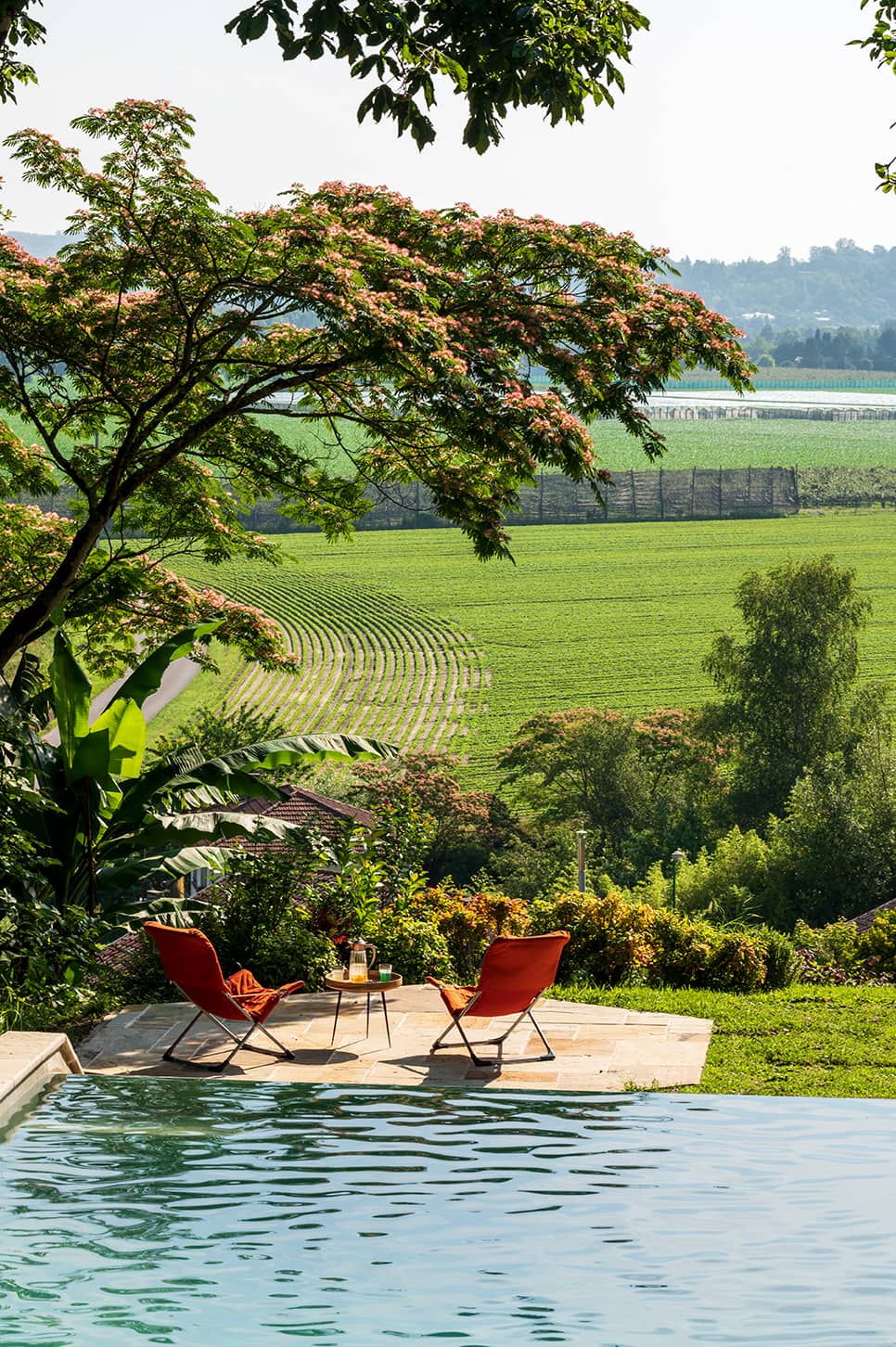 More about us
After having spent most of our career in Paris, working for deluxe hotels and restaurants, we wanted to give a new direction to our work environment and to dedicate ourselves to a new enthusiastic project, getting a better balance in our lives: back to slow life in the South-West of France…
We have been searching for the right location during two years until the date we found this exceptional place fitting with our motivations: to reinvent a new idea of luxury, the one about the nature and the down-to-earth happiness, the slow living far from the air and noise pollutions, in an inspiring place full of character and history. We just felt in love with this beautiful villa and above all the splendid view on the river, opening the eyes far until the skyline.
Throughout the whole renovations that we have undertaken, we paid a big attention to preserve the memory of the building, keeping the state of mind of the former villa, and creating a warm and friendly address matching with the local, gourmet and cultural environment.
L'Ecrin des Gaves is the perfect place for gathering, revitalising, sightseeing, and sharing…